The signature JAI style can be defined in two words: classic and timeless. I am confident in that refinement as I have developed, grown, and become more comfortable in my shoes over the past 21 years. There is great significance and value in classic design. That said, the JAI team still knows how to have fun in our team culture and our designs!  
Eccentric Details Within Classic Design
Eccentric design cannot be defined as one specific look or style. It's more about creating a playful and lighthearted space by incorporating quirky, unexpected details that may bring a sense of nostalgia or fictional humor. Recent projects have allowed us more freedom in brand standards to really bring in a few amusing elements.
The Floridan Palace Hotel
This Tampa landmark project was recently awarded to JAI as it undergoes a renovation and rebranding as a Tapestry by Hilton boutique hotel. In initial design meetings, our client mentioned seeing some artwork displayed in other hotels that made him look twice. That conversation opened the door to our team pushing the boundaries of our design concept.
Playfully named "The Dan," the hotel bar will see walls covered with "drunk monkeys," along with funky, eclectic frames in various colors, shapes, and sizes. The frames will house images evoking silliness that highlight the space's sense of humor.
The guestrooms will follow the same design concept as eccentric artwork is displayed in each room. The design is inspired by the magic of the circus but reinvented in a mature, refined manner. Imagine a chimpanzee wearing glasses or a framed sculptural hand holding a flower protruding from the wall; these unexpected, fictional images will add imaginative enchantment to each area and make guests do a double-take.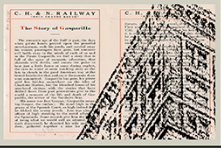 The Renaissance Hotel by Marriott, Austin, TX
Austin is magical, with hidden elements of surprise scattered throughout the city. Strolling around, you're bound to see eye-catching
art murals and cute outdoor seating areas found in nooks between buildings or nestled within low-branched oak trees. 
The Renaissance brand stays in line with the magic of Austin, and our design follows this theme. Artwork will connect whimsy to the space more than the finishes or classic overall architectural shell.
The hotel's Peloton Room is home to a neon sign quoting Matthew McConaughey's slogan, "Alright. Alright. Alright." The paparazzi escape displays a "Love Y'all" wall mural, while Choza, the hotel's restaurant, will bring the vibrant Austin forest indoors with swings and live-edge tables, creating an outdoor bar vibe. It's all about those unexpected moments.
Hola Restaurant, North Carolina
Located in the stunning Blue Ridge Mountains, Hola Restaurant will boast design elements inspired by the authentic beauty of the region's sunsets combined with the location's eclectic, vibrant, and artistic ambiance.
While the overall design is eccentric with our use of colors and pattern mixing, it's less about humor and fictional quirk. The bold color palette is paired with natural finishes and intricate details reminiscent of traditional Spanish ceramic patterns and forms. Upon entry, guests are greeted with a large arch, mosaic tile inset into natural wood floors, and lighted signage that reads, "Live, Love, Eat" in Spanish on a series of wooden planters. Playful yet still classic. 
Finding the Balance
There is no right or wrong way to achieve eccentric design. Our style comes to life when we find that perfect balance between eccentric elements against classic design forms and finishes. It's that incorporation of a little playfulness that will delight guests and keep them returning for years to come.
Our passion is helping clients tell a story through design that connects emotionally with their guests. Every property has a story to share, specifically boutique hotels, but we strive to make even the largest brand's hotel feel intimate. We like to consider ourselves "uniquely boutique," as we thoughtfully bring fun and eccentric elements into every design.